There are two things that come to mind when I think of NASCAR....the deafening roar of engines driven at top speed and the shaking and spraying of giant champagne bottles but two ladies married to drivers Jimmie Johnson and Burney Lamar have brought other visions to mind.
Very stylish visions is!
Enter Chandra Johnson and Niki Taylor
Two NASCAR wives with style to spare.
Chandra Johnson- a former model - is an American beauty who hails from Oklahoma.
Her taste is exquisite and she always looks fantastic despite the intense heat and stress of watching Jimmie race around the track at speeds over 200 mph.
photo via allleftturns.com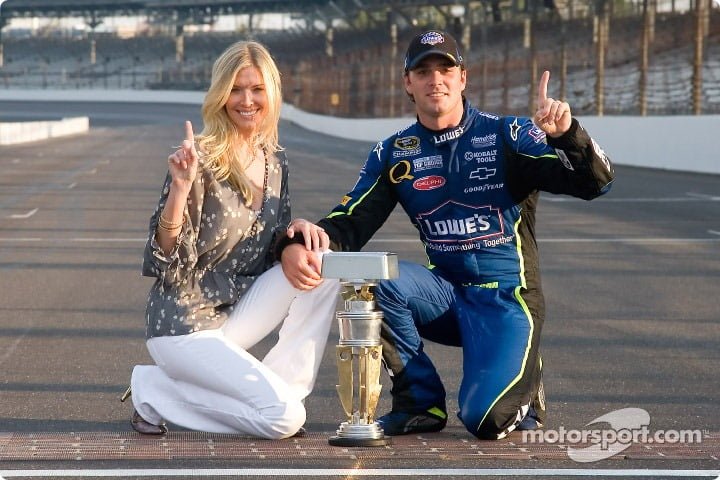 Jimmie, Chandra and daughter Genevieve Marie
Here she is looking demure and sophisticated at the New York Stock Exchange...
photo via zimbio.com
photo via thefastandthefabulous.com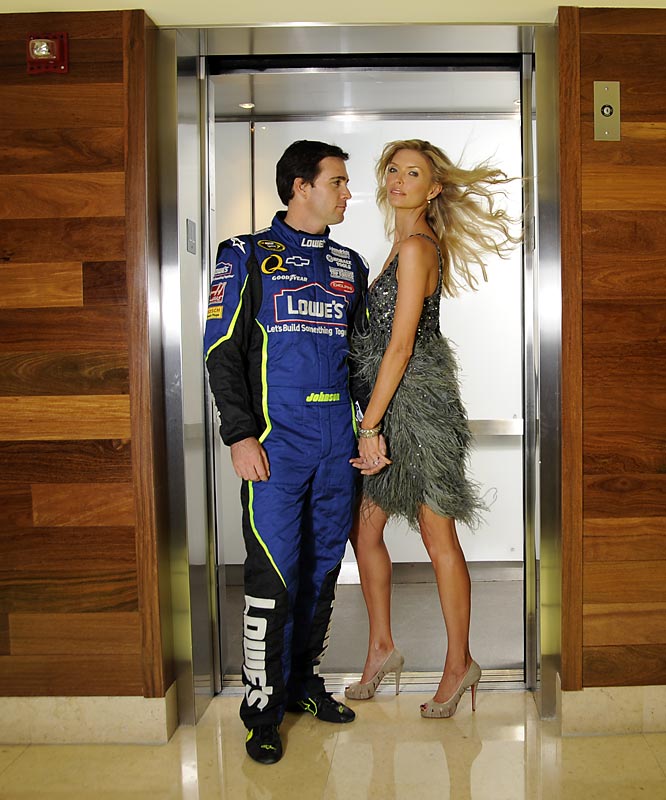 photo via playerwives.com
photo via zimbio.com

photo via skirtsandscuffs.com


Chandra looks gorgeous dressed down as well as dressed up and her homes aren't too shabby either.
Here is the old Johnson NYC pied-e-terre which features their own art collection. It is simple yet luxurious, was designed by Shawn Henderson and features mid-century furnishings.
The apartment has since been sold and the Johnsons have purchased a larger apartment on a higher floor to accommodate their growing family.
Chandra founded the Jimmie Johnson Foundation with her husband in 2006 and
was recently interviewed for PEACHY magazine where she shares her beauty tips among other details about her childhood and life as a wife and mom. She also mentions her "addiction" to 1st dibs and her affinity for the arts in Charlotte. Sounds like my kind of woman. Here is the link....
PEACHY
You can follow Chandra on
Pinterest HERE
Twitter HERE
Next enter a classic beauty we all know and love, supermodel Niki Taylor who has graced countless covers and innumerable ads throughout her ongoing modeling career.
Niki hosting the people's choice awards - photo via zimbio
I had the privilege of designing two homes for Niki.
One in Florida and one in 2002 at the gorgeous Governor's club in Tennessee. I can say that i
n person, without makeup, Niki is stunning and she has a beautiful personality to match. Warm and gracious she is truly a lovely woman inside and out who is happiest at home hanging with her close family and friends. She generously supports numerous charities but closest to her heart is the Red Cross who she credits with her recovery after her car accident and subsequent blood transfusions.
photo via in style weddings
Many years after I worked with Niki she married NASCAR driver Burney Lamar and has since given birth to two children - a daughter Ciel and a son Rex all the while managing to make motherhood look glamorous! However it is her honesty about being a mother as well as her own personal struggles that keeps her real to her fans and followers. Recently her husband Burney, ever the speed junkie, has a new career as a pilot and has been flying jets commercially.
photo via US magazine
photo via zimbio
with her daughter Ciel - photo via celebrity baby scoop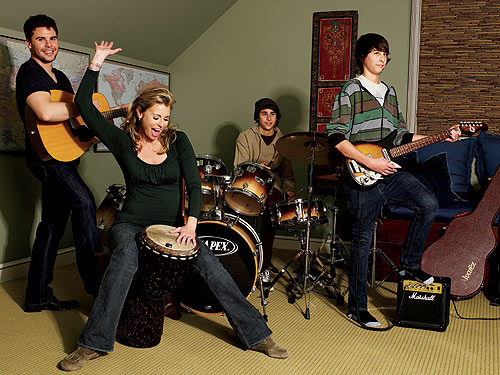 Niki and Burney with Niki's older sons Jake and Hunter - photo via people magazine
You can follow Niki on
Facebook HERE
Pinterest HERE
Twitter HERE
We wish the best to these inspiring, stylish ladies and their beautiful families.
Until Next Time,
t